2019 is tipped to be the year where ugly fruit and veg is no longer deemed ugly, but invaluable. To 'through the ages', where the focus is on enabling oneself to lead a longer, healthier life, 'as consumers deem health and wellness a holistic, proactive and ongoing pursuit.'*  Well, one south London organisation is helping the community to do just that by teaching them to cook, and by cook, we mean ingredients and recipes not one-hit wonder pre-processed specials.  Rosanna Head
Greenwich Co-operative Development Agency a.k.a GCDA, runs over 50 free cookery clubs in the borough every year.  The Agency's focus is on making small changes towards a healthier, more sustainable way of cooking and eating, while providing the community with a social culinary hub.
We spoke to Christina Reynolds, Greenwich Partnerships Development Lead at GDCA. She shared why the team feel so passionate about healthy eating and the education that is still needed, yet best served in the community.
Christina Reynolds said:  "The GDCA has been supporting communities to be healthy and sustainable since 1982.  One of our aims is to deliver programmes and courses that build knowledge and skills in the community across enterprise, health and the environment.
"The Taste of Health Cookery Clubs  promote healthy lifestyles to the whole population and particularly those experiencing health inequalities, so their physical and mental well-being is improved"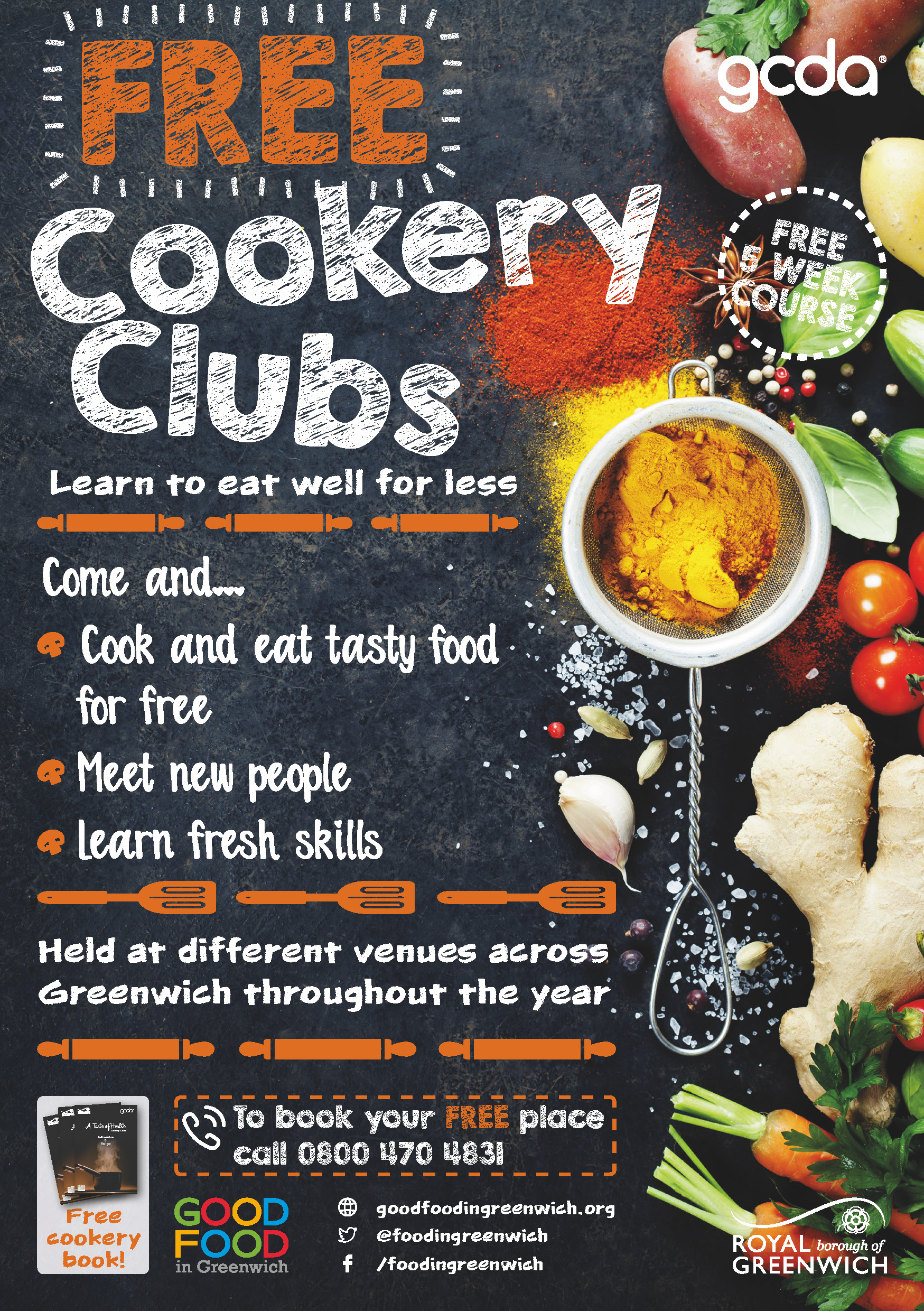 Good Food In Greenwich: A Taste of Health
There's no better way of getting to know people than cooking and eating together. Food can help break down social barriers and even combat loneliness, whilst a nutritious diet can be one of the main cornerstones of a healthy lifestyle alongside regular exercise.
Reynolds tells us that it is for these reasons that the GCDA has been running free cookery clubs for more than 30 years, funded by the Royal Borough of Greenwich Public Health.  The programme continues the excellent work of Public Health of 10 years to help people make healthier choices.
Reynolds added:  "You'll find 60 clubs running across Greenwich per year, including in Charlton at Mascalls Meeting Room on Victoria Way. The clubs run in 5-week blocks, with up to 12 participants taking part each time.
The cookery clubs are run by people from the local communities, trained by Public Health in an Open College Network course in Healthy Eating and Running a Cookery Club.  Each week participants prepare quick and tasty meals using easy to follow recipes and accessible ingredients – all reinforced with healthy eating advice.
Anyone who lives or works in Greenwich can apply to attend, however bespoke courses are available for organisations wishing to create a programme for their user groups.
Reynolds added: "We can tailor an offer for individual groups and organisations, and are pleased to have worked with Age Concern, Pause, Nepalese groups, army families, older residents in social housing and a charity for women who've experienced repeated pregnancies that result in children needing to be removed from their care."
The Impact
Reynolds tells us that the clubs are always very popular, with high levels of attendance and great feedback always freely offered by participants.  She said:  "The results speak for themselves.  In 2019 the GCDA ran 72 Cookery Clubs and reached a total of 662 people.
"Nearly half reported that that had increased the number of meals they cooked from scratch and when it came to eating more healthily, there were real improvements too: 55% of participants reported an increase in the amount of fruit and veg they eat, 43% had cut down on sugary drinks, 65% measured the oil they used in their food and 42% had started measuring salt when cooking."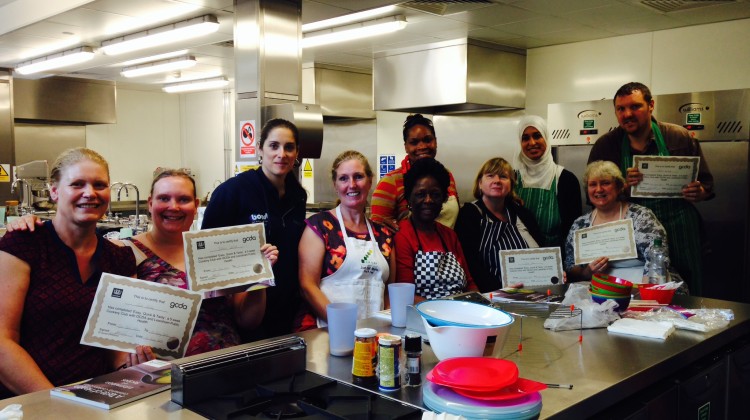 The best testimonials come from those who attend the clubs:
"The tutor is brilliant. She has given me confidence and is kind and really knowledgeable." – John from Glyndon club
"I love the course! I'm getting loads of new knowledge and the social interaction is great; it's wonderful meeting people from other cultures" – Mary from Trinity club
"I'm more confident in cooking, chopping and reading labels, thank you so much for this great course!" – Surjit from GCDA club
If you want to book on, call 0800 4704831 or if you'd like to commission a bespoke offering for your organisation please contact christina@gcda.org.uk.
Photos courtesy of Live Well Greenwich at the Royal Borough of Greenwich.
About GCDA
Twitter: @GCDA_UK
References: